Have you ever thought about how the transportation of big farm machinery or those enormous pipes used in buildings is possible? Well, a flatbed trucker is responsible for that.
Compared to other types of truck driving, flatbed trucking is significantly different. Flatbed truckers are more renowned than conventional drivers among those who are in the transportation sector. This guide will explain all about flatbed freight and its benefits.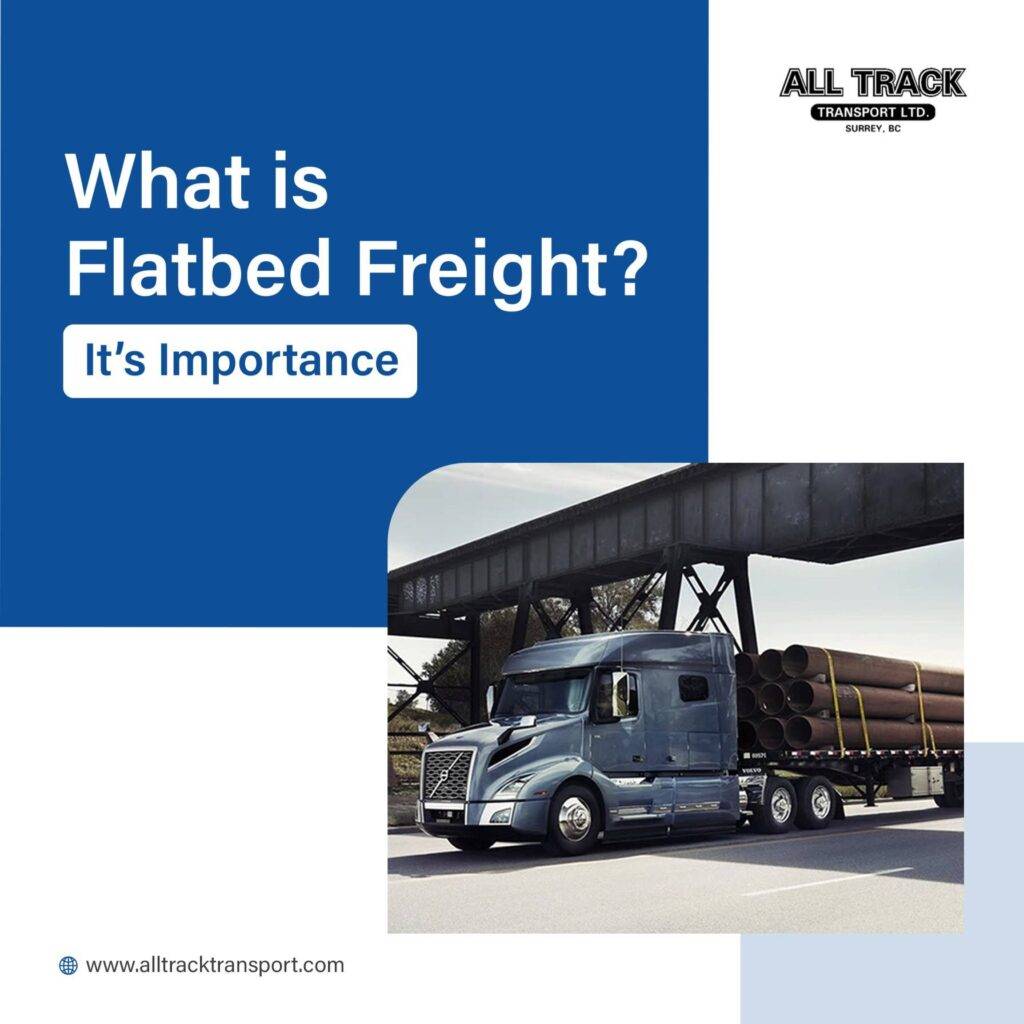 What is Flatbed Shipping?
Flatbed freight is shipping goods through a flatbed truck, an open trailer without sides, or a roof. They frequently transport over-dimensional shipments. 
Since there are no sides or tops to shield your goods, these must be non-perishable and weather-resistant while in transportation.
The term "flatbed freight" describes the movement of bulk freight. Any cargo that won't fit within an enclosed trailer falls under this category. Cargo is loaded from the sides of the truck to place on top of the flatbed. Therefore, the shipment is not hindered by any limits or obstacles, securing the flatbed.
The Importance of Flatbed Freight
Trucks with flat beds differ from those with enclosed beds. Even though it could appear like a strange manner to transport freight, it fulfills crucial and unique purposes.
You are not constrained to loading or unloading your cargo in the front, back, or one particular side of the truck. 
In essence, no boundary limit restricts you from transporting heavy material. The following are a few justifications for choosing flatbed transit.
Huge Storage Space
The main benefit of using their services is that flatbed trucks offer much greater cargo capacity. It doesn't have the same limitations as enclosed trucks because it doesn't have sides or a roof. A flatbed trailer can carry more weight as a result.
It is vital to use one of the top flatbed shipping companies for huge and irregularly shaped cargo like farm equipment, construction equipment, aircraft parts, windmill components, and other items.
You shouldn't be concerned about your goods being damaged or destroyed during transport because credible carriers secure your loads.
Providing Ease to Loading and Unloading
Utilizing one of the most reputable flatbed shipping companies also has the advantage of helping you save time and money. A flatbed truck is designed to make the loading and unloading of material simpler and quicker for workers. Flatbed trucking accelerated the speed of the loading process on both ends. Workers can use a crane or lift to load and unload items from the sides, back, and even the top. As a result, the best flatbed shipping companies rarely experience problems with deliveries that are late.
Reduced Number of Trips
Flatbed trucks are big, have excess space, and have no boundary walls.With flatbeds, you can load as much freight as you need to ship due to the extra storage area. As a result, you will spend less time making several hauling journeys to and from destinations. 
The ultimate goal of the majority of trucking companies is shorter delivery times. Cutting down on driving time and the number of trips with flatbed trucks helps to achieve this. It will eventually result in lower fuel usage and more financial savings.
Versatility
Hot shot drivers and other trucking alternatives can't complete some tasks because they lack the necessary equipment. However, you load the freight from the sides, back, and top in flatbed trucks which is more convenient in terms of loading.
The procedure of loading and unloading is simplified and takes less time because of its versatile nature.
More Convenient 
In terms of convenience, flatbed trucking is the best option one can choose. Flatbed trucks are the most suitable and reliable sources for the shipment of goods.
Unlike hot shot drivers, who typically include human workers to load up their vans or trucks, you transfer loads on a flatbed by utilizing a crane or winch.
Consider the simplicity and convenience of flatbed transportation services for your upcoming major project, and get all the benefits in one go.
Easy Maintenance of Flatbed Trucks. 
Cleaning a pickup truck bed is a difficult job. Managing snow and filth buildup and trash collection in the truck bed during the winter is frequently a hassle. A flatbed truck's open deck design makes it simpler to clean and maintain. 
You no longer have to be concerned about debris becoming lodged in cracks or corners like you would in a conventional truck bed. In the event of dents or scratches, you do not need to repaint or repair sidewalls or a roof.
Constrains Safety First
The variety of flatbed loads with the securing and tarping of cargo naturally contributes to a higher sense of safety.
Prior and post-inspections become essential to guarantee the security of the freight, the vehicle, the driver, and the general public from potentially hazardous conditions.
There's a reason why so many companies from various industries choose a full-service transportation provider. With such a large fleet, this kind of shipper can satisfy the needs of each customer.   
The Driver of a Flatbed Truck Responsibilities
Flatbed trucking requires skill! Flatbed drivers are regarded as some of the top skilled drivers in the trucking industry because many cargoes weigh more than the actual vehicle. They are also physically strong and have steely nerves!

Drivers of flatbed trucks must use straps, chains, or both to secure their cargo service in Surrey BC before transporting it. A tarp may also be necessary for some loads.

Always inspect the goods to ensure the load is secure and hasn't moved. The driver must check the straps and chains whenever they stop at a truck stop, restaurant, or rest area.

Be a professional at all times. Respect all national, state, and local laws that pertain to driving a commercial vehicle.
Flatbed Trucking With All Track Transport Ltd.
We at All Track Transport have the expertise you need in a thriving container shipping business. We are the best carrier firm for import and export in the Pacific Northwest and have a track record of successfully navigating the market.
Along with operating the ports and routes in our service region, we have a thorough understanding of the logistics involved in cross-border services in BC transportation.
Contact our shipping container transportation firm online or at 604-575-9495.